So, jumping into a story, dissecting notes, rearranging outlines, developing characters with more personal problems and quirks than a...uh...than a metaphor delivered in a deep southern accent could possibly convey (and I couldn't think of one at the moment). Delving into the horror, the batteries wanted a boost (and I wanted a vacation), so I went to the nearest source: Texas Frightmare Weekend. Much fun was had...

Day One:


Met Elvira. Awesome. Got her autograph and took a pic with her (picture of Elvira and I on a friend's camera, coming soon). We all decided she is immortal and will never die. There was much speculation upon how she accomplished this, top theories including: bathing in the blood of virgins, eating babies, and the quickening.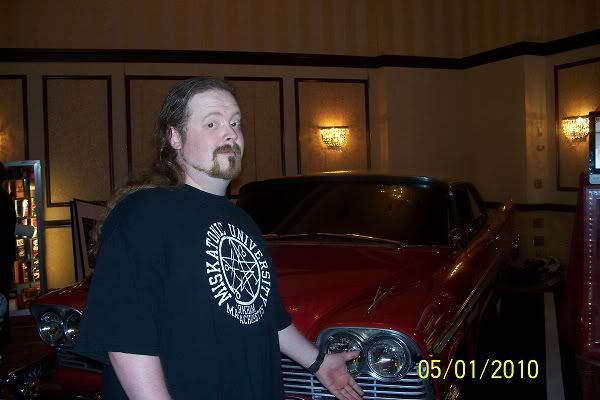 Met Christine...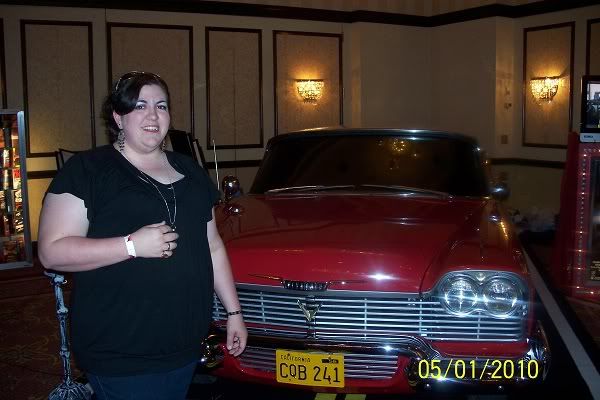 But Megan got the better picture I think.


And Lance Henriksen, aka Frank Black from Millennium, aka My Favorite TV show ever. Autographs and pictures acquired. He said we kicked ass...that kinda' kicks ass. :)

That night we went to eat at the hotel restaurant, last minute decision. It was mostly empty, our table and one other at the interior tables. At that table sat, Lance Henriksen. Then, a couple at a time, the entire cast of CHRISTINE filed in, having their reunion dinner just a couple of tables away. Julian Sands (WARLOCK, ROSE RED, ARACHNOPHOBIA, etc.) wandered around nearby, chatting on his cell-phone. Meg Foster (THEY LIVE, BLIND FURY, etc.) skipped in singing 'Stayin' Alive' to join the CHRISTINE crew. Derek Mears (Jason Voorhees in the new FRIDAY the 13th...and the nicest giant person you could ever hope to meet) sat nearby as well. My friends and I very discreetly gawked and nodded knowingly at one another...our last minute dinner decision was an awesome idea.

The last part of Day One was the showing of a low-budget horror film...I hesitate to say the title, for I certainly expected cheesy and bad (I often thrive on such movies), but to even give this one a bad review would give it credit for deserving a review at all and place it within a category of real movies that get reviewed. I can't do it. It was, sadly, the only downside of Day One. I only mention it because of how awesome a day we had, even a movie, no, film? No. Even a series of recorded images played in sequence this bad couldn't ruin the time we had. To be honest, Day One dominated the weekend. Will definitely return next year.

In other news, Wizards of the Coast has posted a special bit of fiction related to CIRCLE OF SKULLS, an extended ending! And I warn all who may be interested to definitely read the book first, otherwise, the extended ending will make little sense and spoil many plot points. That said, here be the link to "Speak of the Devil":

http://wizards.com/dnd/article.aspx?x=dnd/4dnd/20100506

As for now, my horror batteries properly charged (not that they ever really die), writing continues as always. I'm aiming to be done by Halloween...we'll see how close I make it.

Best,
--James