Been almost a month since my last post, an eventful month and not always good events. Car trouble, major computer trouble, minor sickness, household appliances refusing to obey my commands...you know, the usual junk.

I'm using my wife's laptop and her tiny keyboard full of typos. Just feel out of sorts on this thing, like I'm sleeping on a friend's couch while my house is being remodeled or something. Laptops are useful, but a full desktop is my comfort zone. So, luckily, my latest writing project is complete and in the hands of my editor and I'm taking a wee break before tackling the big project that I have planned next. Also lucky, I've felt very 'in the zone' writing-wise, I just need a full screen and a bigger keyboard to keep that going. Until then I'll stick to my favorite pens and graph paper notes to hang on to the momentum.

Also doing some new character sketches, but drawing lately has been a crap-shoot....or a box of chocolates...or something totally up to chance, or choose your favorite metaphor for an uncertain future event and run with it. I churned out one decent bit of artwork (on display sometime this month maybe? Links will be provided.) and then the talent went on vacation, it's a skill I rarely work out, maybe that explains why the writing feels more solid.

Anyway, less than a month until CIRCLE OF SKULLS hits shelves, possibly the last of the Ed Greenwood Presents Waterdeep books? At least the last one that I know of, there's certainly no end to the stories that hide in the City of Splendors, so who knows? I haven't seen copies of the book yet, but I'm watching for delivery trucks everyday, ready for that "it's real!" feeling when I get my hands on something I wrote in its final form. Also curious to check out the sample of Ed Greenwood's ELMINSTER MUST DIE! included in the book, should be good fun all around. :)

On that note, you can watch for updates on all Wizards of the Coast novels, and find some great posts by authors and editors with excellent writing and publishing advice, at the Wizards of the Coast novels book club. Found right here: http://community.wizards.com/bookclub. Every Monday the Forgotten Realms authors have fun with random questions posed by editor Susan Morris and bookclub members. And everyday there is something new, on writing, publishing, new releases, signing events, book recommendations, etc.

So, hopefully soon I'll be back in my comfort zone, sitting at the desktop, surrounded by notes and research, tearing into my next novel with a vengeance. Until then I shall squint at a smaller screen and a tiny keyboard while my wife taps her foot impatiently nearby until I'm done. Nah, just kidding, she's a nice lady...all her impatient foot tapping goes on in her mind...but I can see it in her eyes...

Until then, keep an eye out for this in a few weeks...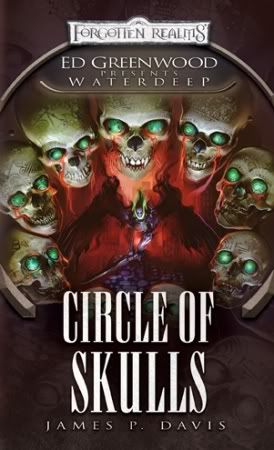 ...and sometime in between I'll show up to provide some artwork and book teasers, we shall see. ;)

Best,
--James